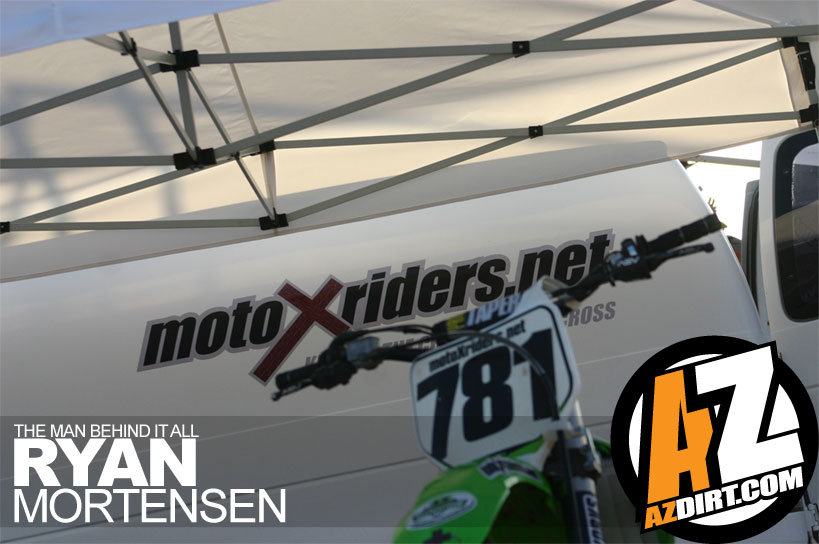 The man behind it all is what his title reads for his photo, which serves him right. From having a long racing history and now being on both sides of the fence. Ryan has a lot of work to do from running Motoxriders.net to still making it to the line for his 25+ Pro moto, to provide for his family and spreading the word of God wherever he goes. At the last round of the CMC Copperstate I was able to talk with Motoxriders.net's very own Ryan Mortensen. I was able to get him away from all of his duties he does on his weekend racing, so check it out. Words / Photos: AW
Hows everything going for you tonight?
Good, Real Good.
Hows the track shaping up for you?
It's shaping up real good, except for me I'm a little tired. Out of shape a little bit.
Hows Motoxriders.net been?
Good, just been trying to hit up all the AZ tracks and spread God's word.
I see you have a both set up?
Yes, the kids are digging it and hopefully have someone take home a bible back to their family and spread God's word.
Do you ever want to take Motoxriders.net nationally?
No there are already enough organizations out there doing that, I really want to stay local AZ. I really like the local seen.
How long have you been doing Motoxriders.net?
3 Years now.
Not too many people know but you been around motocross for along time?
Since 1983 when I took home my first trophy, so I have been doing it for a little while.
Can you gives us a run down of what your career has been like in racing motocross?
Turned Pro in 1998 and stayed a local pro mainly since then. I tried some out door nationals and really found my spot in four stroke nationals for a while. I was able to earn national number 17 in 2000 for the four stroke nationals.
What's your biggest accomplishment in life up to this point looking back on it all?
My beautiful Wife Larissa and my Son Luke.
How old are you now?
I turn 30 on May 26.
What Class are you running tonight?
25+ Pro, I'am just out here to have a fun time tonight and get a moto in.
Words to live by?
Do nothing for selfish reasons, but be humble and consider others better than yourself.
Can you give me a list of who you would like to thank?
First of course, I want to thank my Lord and Savior Jesus Christ, because he makes it all possible. I have a lot of support this year in my racing efforts, I would like to thank: Kawasaki Superstore, Answer Racing, Motoworks Racing Suspension, LeoVince, Scott USA, Amsoil, ASV, Factory Effex, SDG, Bridgestone, Regina Chains, Gaerne, Acerbis, Hinson, Works Connection, and HRP Sports.