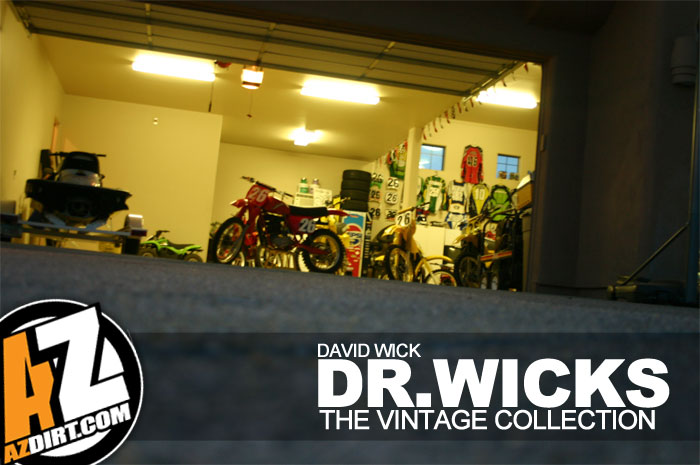 Dr. Wicks the name and Chiropractic and Rehabilitation is game. Wick Chiropractic has been around the sport of Motocross from the day David started it, but not many know that David him self has a collection of some pretty rare bikes that some people would kill for. I was able to catch up with Wick last week and we totally took the bikes out of their dust collecting line and checked them out.
Wick you got the collection here, what is all in it?
1977 YZ 125, 1978 YZ 400, 1978 YZ 250, 1980 YZ250, 1981 YZ 465, 1983 YZ 490, 1978 MAICO 250, 1980 CR 250, 1986 CR 60, 1979 IT 250 for oldies.
New ones I have 2005 PW 50, 2006 CRF 50r, 2008 CRF 450r, and a few quads for the kids!
Wow, so which one would you say is your favorite?
That's a toss-up… Like asking which of your kids is your favorite!
So what and why do you have all these bikes Wick?
Unfortunately, a divorce was the primary reason that I started restoring the bikes… Stress relief, I guess. Plus I always wanted some of these bikes as a kid!
You have one of the best set ups with this garage, house and bikes plan on selling them anytime soon haha?
No, the house I just finished, so it's not for sale. But I'm always open to offers on the bikes! Visit www.Wickchiropractic.com for questions, comments or appointment information!
What can Wick Chiropractic do for an injured rider?
At Wick chiropractic, we offer many different types of therapies, from heat to the latest in cold laser therapy. The type of injury, age of the injury, age of the patient, areas of involvement all factor into developing a treatment plan. Over the years I have treated injuries from burns to broken necks. That type of experience allows a doctor to develop some treatment creativity! We strive for results quickly in the office.
You sure have the collection of Jersey's on the wall at the office?
There are about 20 pro rider jerseys on the wall, along with about 15 local amateurs and buddies! Remember the 05 Phx Supercross? (I think it was 05) when McGrath holeshoted both his heat race and the main (with the nac-nac)? Guess who adjusted him before that race? He sent me a jersey! Justin Timberlake was a cool patient, too!
Pretty much every top pro from out of Arizona in the past 10 years has came through here?
Pros from Destry Abbott (one of my first patients, and a great guy. Brave too!) The blose brothers all the alphabetical way to Kelly Yancy have a spot on the pro wall! Motocross has been an important part of my personal and professional life. It's nice to go to the track and have so many patients there! The bad side is bringing a table with me to the track. One time I had a line of people wanting to get adjusted all the way around my trailer.
Well David Thank You for letting us come over and mess up your garage and for the interview.
Anytime, haha! Now I just need to get these things back in place over here.
Here are a fews pictures, photo-gallery later today!