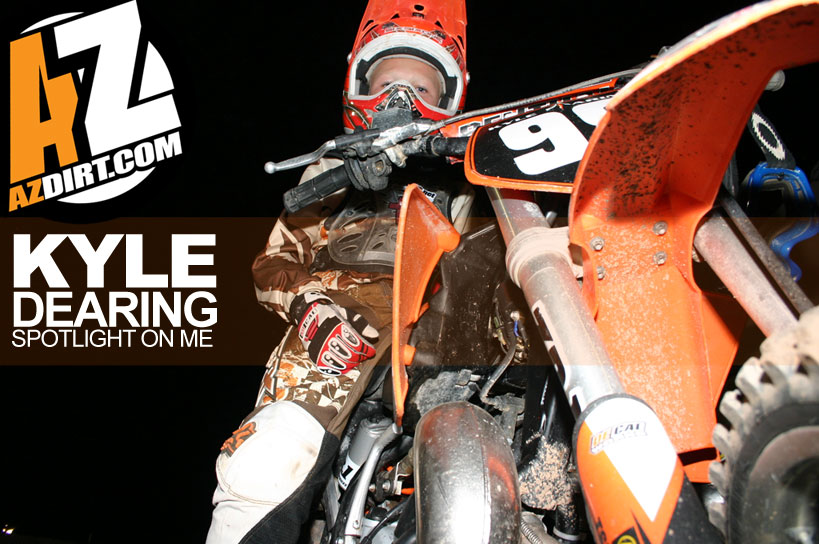 If you haven't met little Kyle Dearing yet, which pretty much everyone has, as he makes his presence known on and off the track. Kyle is taking a step back this year from being so serious with all the sponsors and the racing drama to see if it will help him take off the stress. So far it seems to be working as he is leading the series in all of his classes in the CMC Copperstate Classic. We were able to catch up with Kyle for an interview and this is what we were able to get out of him.
So give me a rundown?
My name is Kyle Dearing, I'm 10 years old, my number is 99, and I live in Litchfield Park, Arizona.
What classes do you ride?
I ride 65 10-11 mod and stock.
Have you hit up any nationals this year?
Yes, we did World Mini and Amateur Open.
How did that go?
In my run offs I finished 15th in 65 10-11 Stock, 18th 65 10-11 Mod, and 21st 65 Open at World Mini. I took a 6th and 9th at Amateur Open.
Do you plan on doing any more nationals?
I wish I could, but right now it just doesn't look like we will be able to.
So how has the series been so far?
Pretty good. I'm leading all my classes and I hope to take the overall tonight.
What are your plans to do with your prizes when you win?
I hope I win two bicycles so I can go trade them in for one really good one.
So it sounds like you have it all figured out?
Yup!
What if they don't give you a bicycle and its something else?
I don't know what I'll do, but I know I would be really bummed!
Thanks Kyle for the interview, anything you would like to thank?
I want to thank my Mom and Dad; they do so much for me along with my Grandpa. He helps me with everything too. Bill Shugg, Dearing Trucking, TSR Contracting, Bent Clothing, AZDirt.com, and all of my other sponsors that I can't remember right now thank you so much.