Alpinestars has been killing it in the boot business longer than most of us has been alive. Over the last few years they have really expanded their protection equipment. From knee braces to roost and chest protectors and neck braces they have you covered from the neck down to your toes.  For their 2019 lineup they completed their five year development and introduced the Supertech M10 Helmet.
We are little kids at heart, right? Who doesn't get some new moto gear and then parade around in it through the house? I'm no different and when I got the M10, straight to my head it went. This helmet is really vented! Just walking through the house I could feel the air flow hitting my face. I knew when I started spinning laps my head would stay as cool as Fonzie. But before we get to how the M10 handled the track, there is a lot of info to go through.
You can check out the spec sheet on this beauty, but let me tell you there is more tech in this lid than your grand pappy's brain bucket. There are multi-layer composites in the shell to help disperse energy in impacts.  Four density EPS liner for different zones around the helmet lining.  A visor release system so the helmet does not twist unnecessarily when hitting the ground. And to add to minimizing rotation, the M10 is fitted with MIPS (Multi-Directional Impact Protection System).
All that is 'stuff' that helps protect, but how does the M10 feel? In a word, comfy! As I was walking from room to room and noticing the air flow, there was a pressure point on my forehead. I have felt this with other helmets so I crossed those of my list as compatible with my head. But don't be so quick to dismiss the M10 if it does not quite fit right. They outfitted the helmet with a patented A-Head Fitment System.  With a micro-adjustable pad that is connected to the helmet inner shell, it is possible to raise or lower the helmet fit and also tilt the helmet forward or backwards.  A small, easy-to-get-to adjustment and that pressure point was gone. The M10 felt comfortable all around my noggin and I was ready to put in some laps.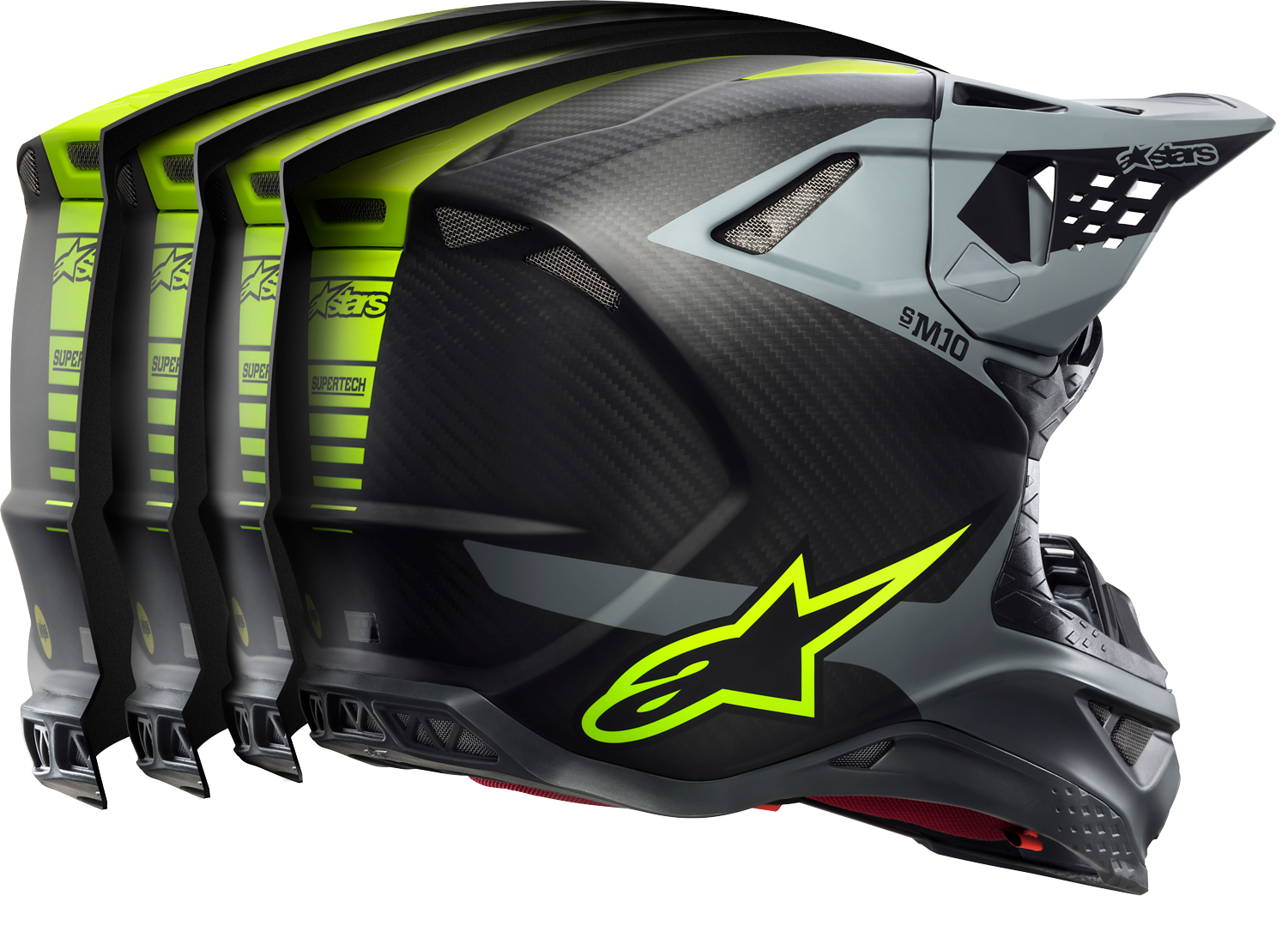 Helmets these days look bigger than helmets of yore.  All the protection technology needs to go somewhere, right? Well size does not indicate heavy.  The M10 comes in at a svelte 1,370 grams (DOT).  Riding with the M10 did not pitch my head this way and that. I had no neck strain after a day of riding.
While riding, the ventilation was excellent.  Like I mentioned above, just walking around I could feel the air moving through the helmet.  The day I rode it was pushing 95° (I left before it got over 100°!) and I did not feel like my melon was cooking in its own juices.  There was hardly any wind noise either which I have had in other well vented helmets.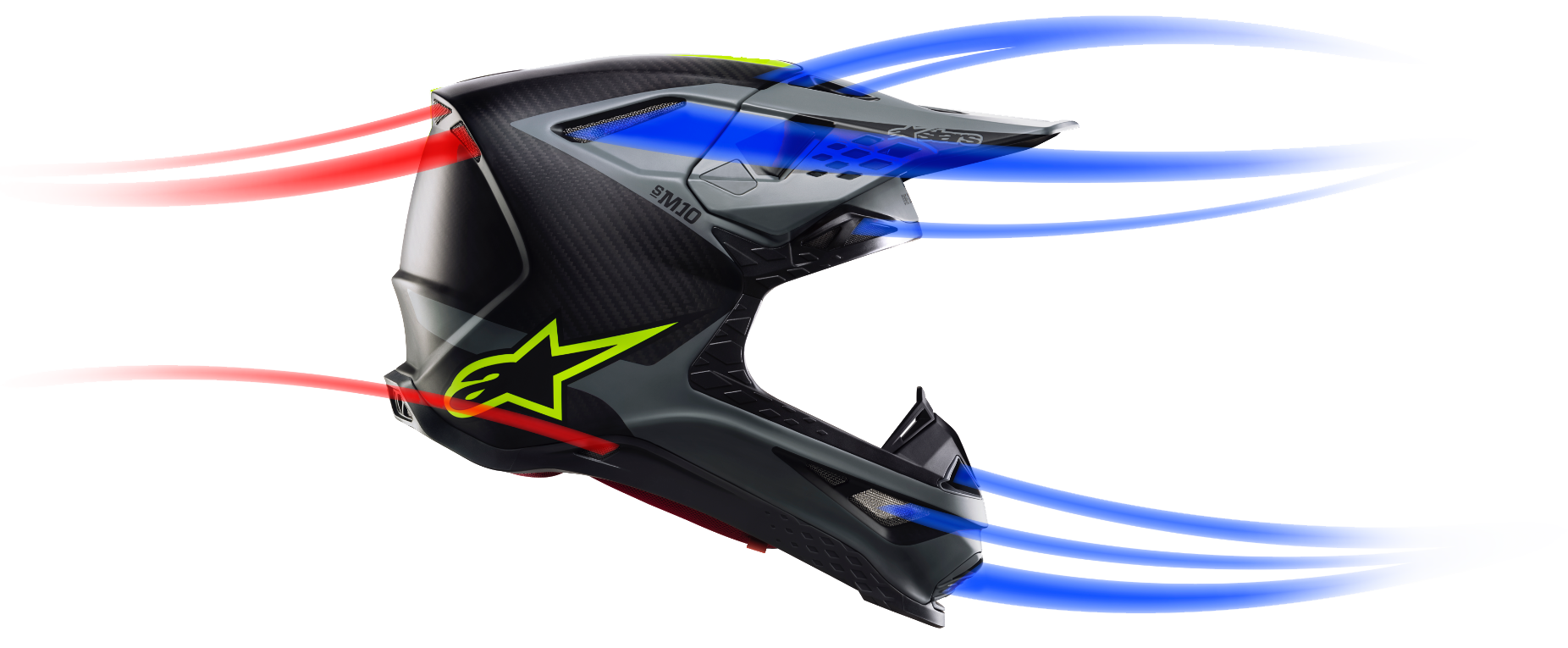 I do not wear a neck brace, so this is for those who do. If you feel your current helmet is not giving you enough clearance on the shoulders, the M10 has raised the sides and added padding.  This should alleviate any crowding or bunching you feel with a neck brace.  Not wearing a neck brace gives the feeling of the M10 sitting higher off the shoulder than normal. This did not hinder my riding, but it did take a little bit of seat time to get used to.
Here is something cool for you trail riders and hare scramble racers that wear a hydration system.  The helmet lining includes channels which allow a tube to be incorporated on either side of the shell. No more water tube hanging off the side or trying to find it while bombing down a trail!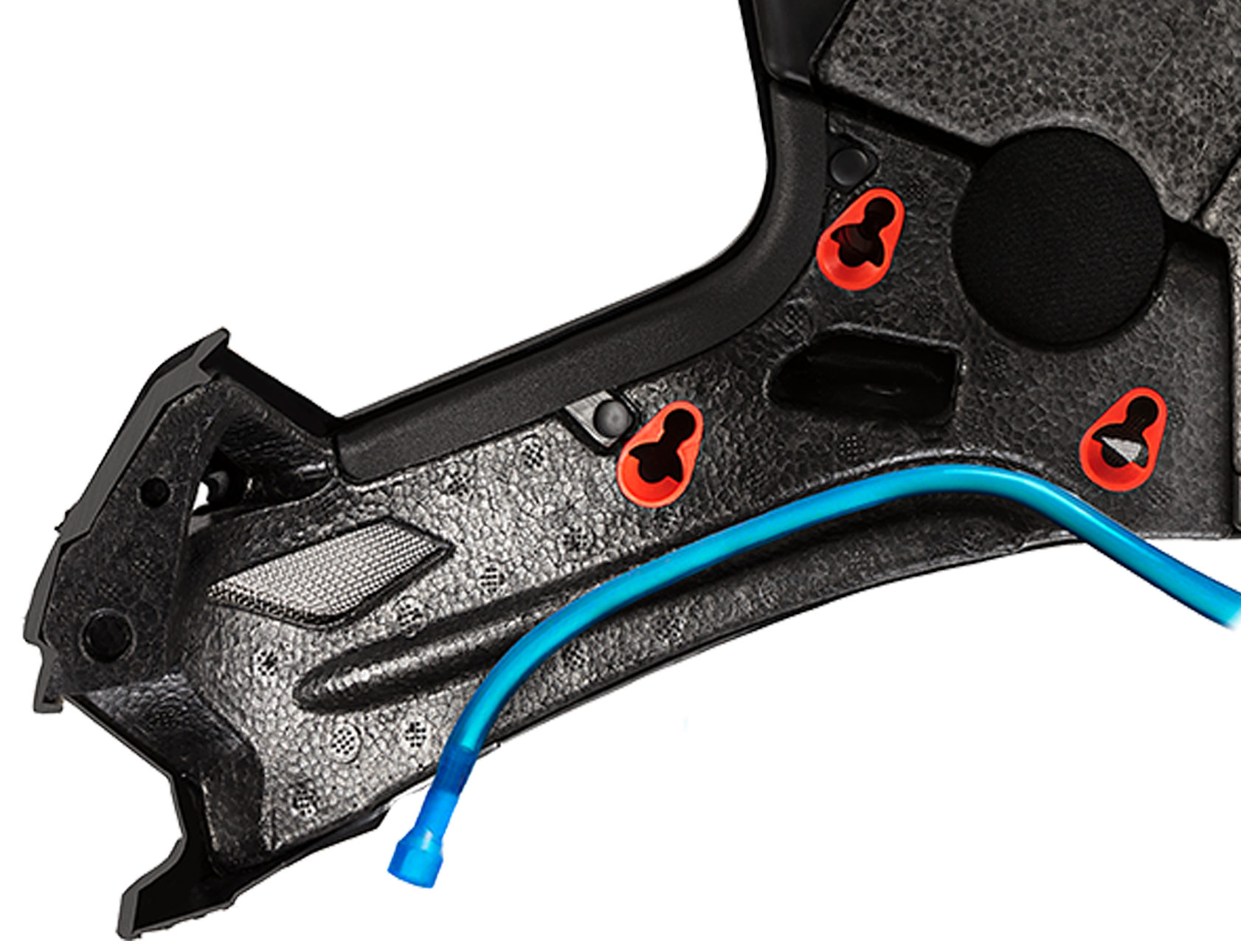 How picky are you about visor position?  If you are picky, well the M10's visor is fixed into place. There are three points where the visor mounts, but it only fits so it molds into the lines of the M10.  For me, I usually run a visor pretty high but not being able to adjust the M10 was not an issue.  It was high enough that it did not interfere with my vision.  I do not think not being able to adjust the visor will be a deal breaker for such a quality helmet.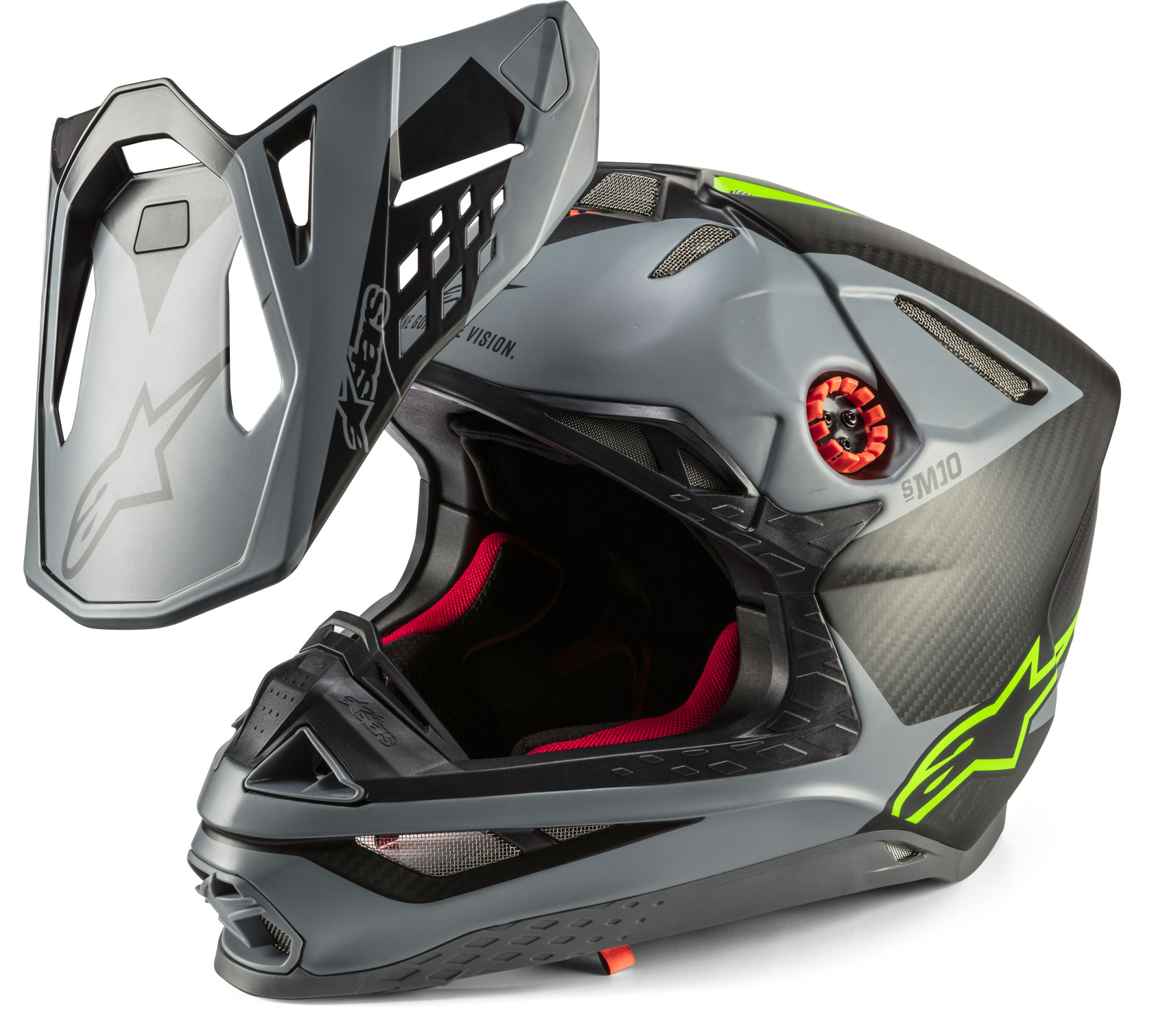 The M10's opening accommodated my goggles (Scott) after taking off the goggle's nose guard, but they did feel like they sat higher on my face. I did get roosted and I could feel the loose dirt and dust hitting my face.  I think the newer outrigger styled goggles may provide better coverage and pressure to hold the goggle firmly to the face.
The M10 comes with a cool helmet bag and extra visor as the accessories.  The bag is nice with dual zippers and a pouch inside to store the visor and anything else you may want to keep in there.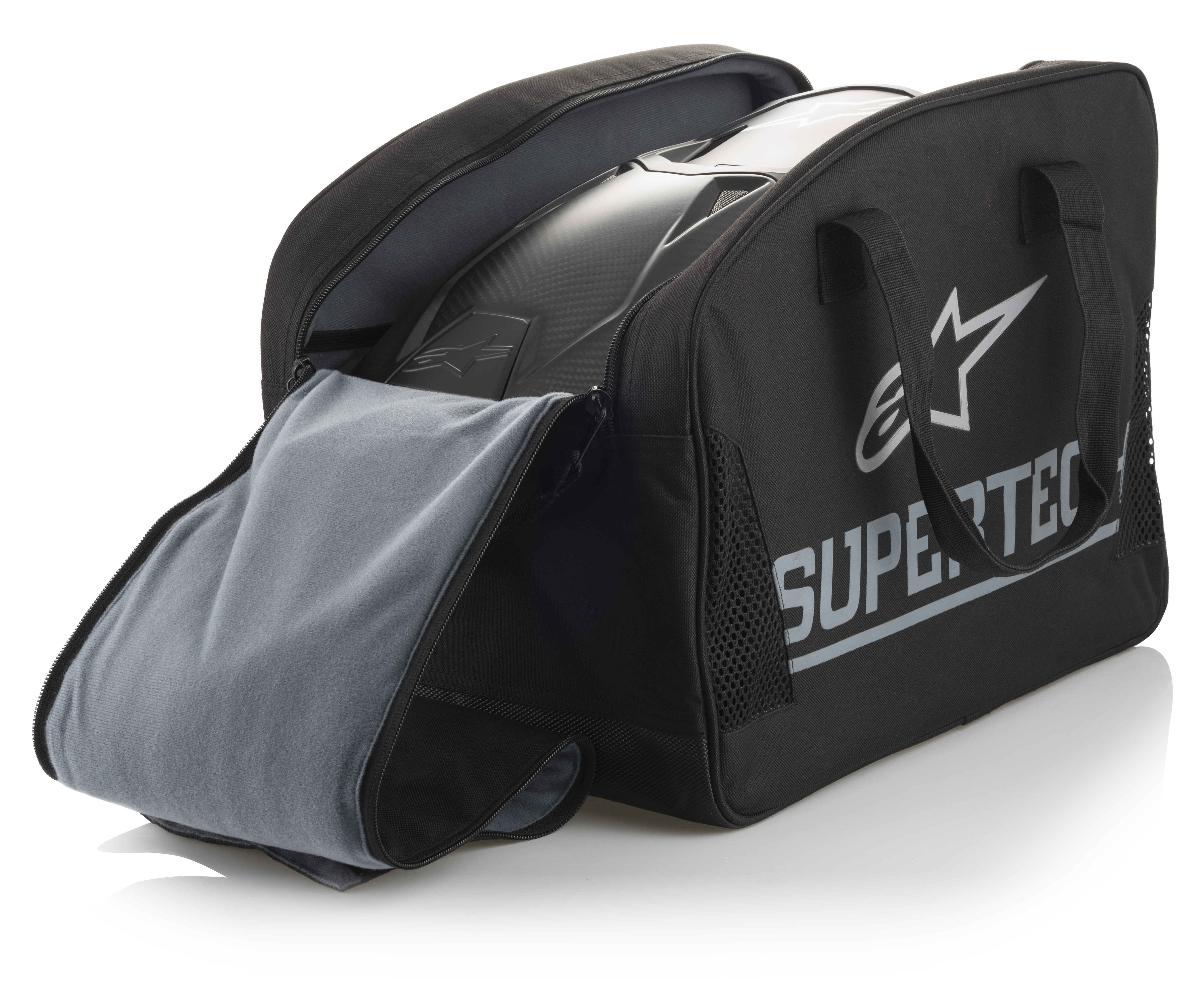 The conclusion is that the Supertech M10 helmet is top of the line. The adjustments that can be made make for a secure and comfortable fit. The safety features such as MIPS and the visor release system just add that extra layer of protection.  The comfort while riding and the lightness of the M10 makes wearing it enjoyable and what might be the ultimate compliment, like it wasn't even there.  Even though it may feel like it is not there, I am confident in a crash, I will be glad it is.
PROS: Adjustable fit, MIPS, lightweight, quality accessories, well vented
CONS: Price, goggle positioning, non-adjustable visor (but this wasn't really a 'con' for me)
SUPERTECH M10 META HELMET (tested): Retail $649.95
SUPERTECH M10 SOLID HELMET: Retail $579.95
Phoenix area retailers that carry the M10: