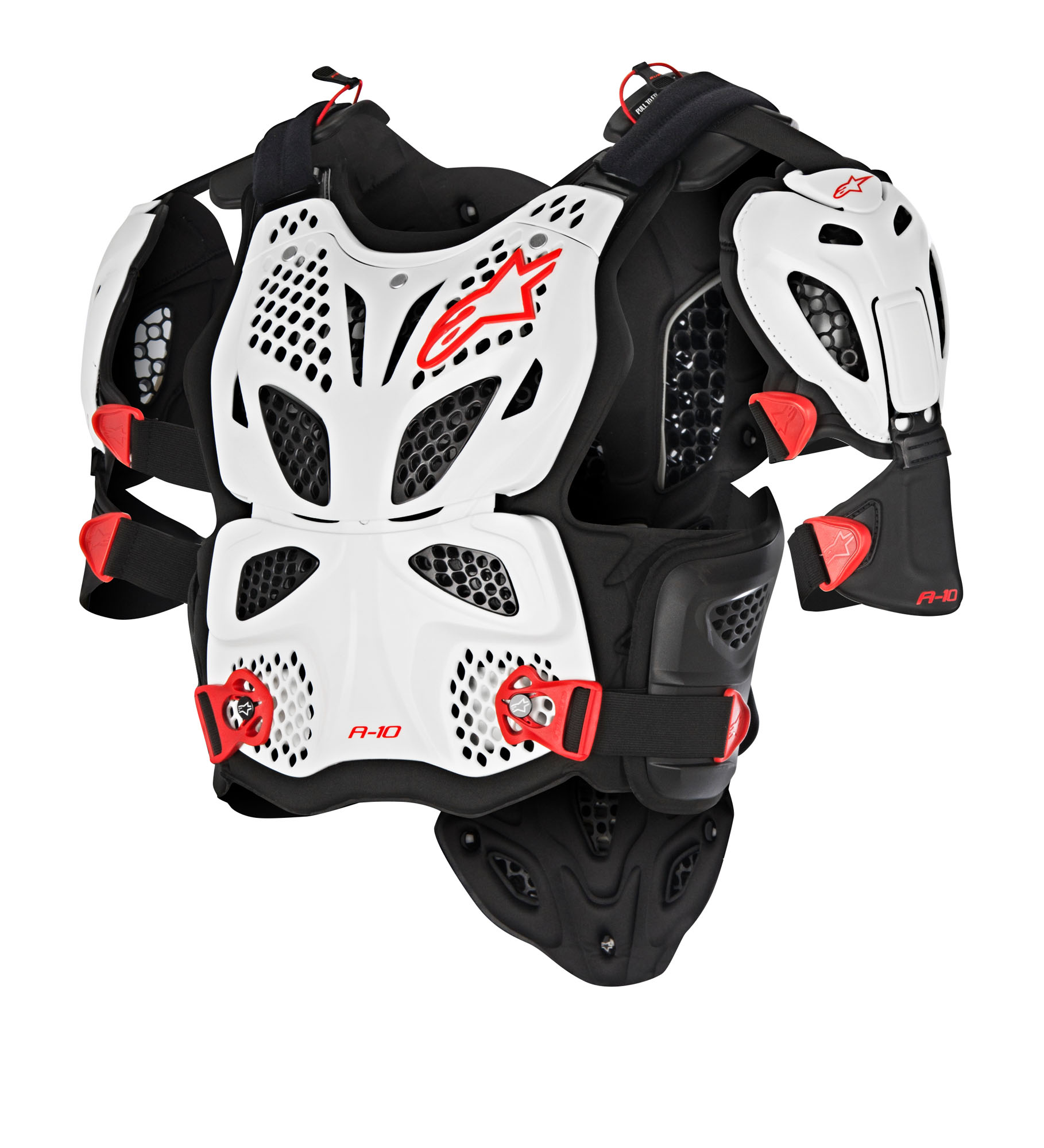 ---
There are a few clichés when it comes to motocross and safety: Dress for the crash, and it's not a matter of IF you crash, but WHEN. So why do we throw a leg over the bike hoping we are dressed "right" while worrying about the "when"? Because motocross is fun! However, that fun does not come without risks.  One way to minimize that risk is wearing protection and Alpinestars has plenty to offer. From neck braces to boots, they have you covered from neck to toe. But what about the stuff in between? That is where the A-10 full chest protector comes in.
The A-10 is a full chest protector that provides coverage is the chest, back, upper arms, and even around the mid-section with a kidney belt.  Per Alpinestars, "Protector plates feature embedded grid technology under the shells which absorbs and dissipates impact forces. Grid technology cell system enables greater flexibility and air ventilation while allowing for significantly reduced weight."  I can attest to the flexibility, which I will get into more detail later. The ventilation felt fine, but on the day I tested, it was overcast and about 70°F.  Once we start heating up here in the Arizona desert will I get a true sense of the ventilation and cooling properties of the A-10.
Putting on the A-10 and securing it is very easy. Fit can be customized with the adjustable kidney belt to give you as loose or as tight a feel that you want. There is no Velcro to secure or ratcheting systems to get stuck. Alpinestars has a quick release attachment system that easily locks in place and easy to disengage after a long moto.
Back in the day I wore one of those heavy duty under-the-jersey vests. I liked the spine protection and the fact I could show off my killer fashion sense without covering it up with a chesty.  It was that total Euro look.  But today, function has nosed ahead of form. Where a lower end chest protector may deflect roost, does it really offer that much protection in a crash? My experience is that you don't really 'wear' the cheaper protectors, they just kind of hang on your shoulders while you move around inside it when riding.  The A-10 has a soft bio foam padded chassis for maximum comfort and personalized, close-to-the-body fit.  I was worried that it would feel constricting in the chest and on the sides, but once I put it on and made some slight adjustments to the adjustable kidney belt, my thoughts of 'snug' turned to 'hug'.  While riding I still felt like I can move about the bike like I did before and the A-10 moved right along with me without holding me back or feeling like it was getting hung up anywhere. It really is comfortable and felt like a custom fit.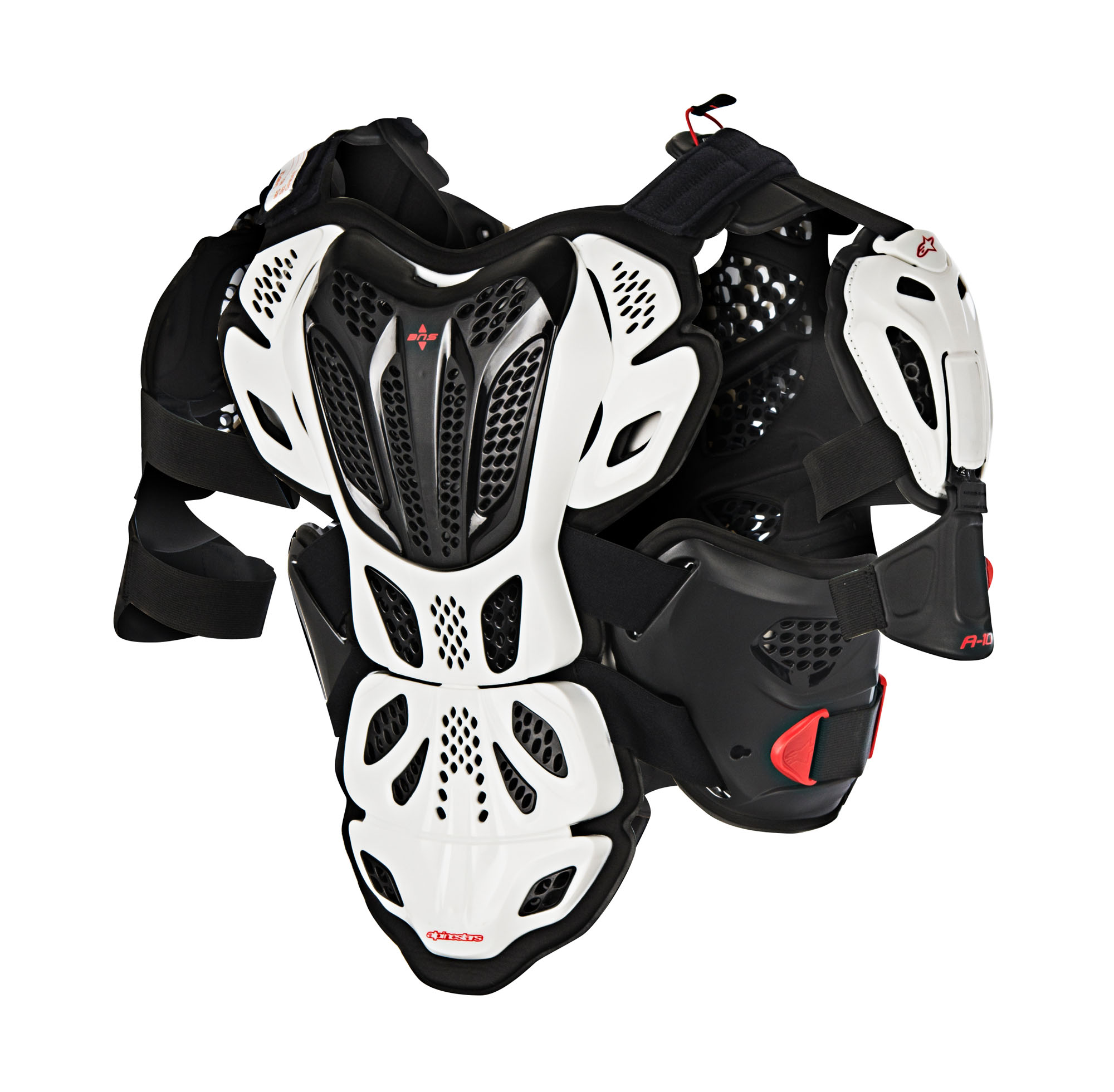 ---
The A-10 offers a modular design, which means it can be worn in various configurations.  For example, it can be configured to fit Alpinestar's BNS neck brace.  I do not wear a neck brace so I do not know if this configuration will also adapt to other neck brace brands.
I did find the upper arm protectors a bit constricting.  They were easily removable and once removed I felt I had full motion from the shoulders down to my hands.  The can be easily put back on too should I find a need for that additional protection in the future.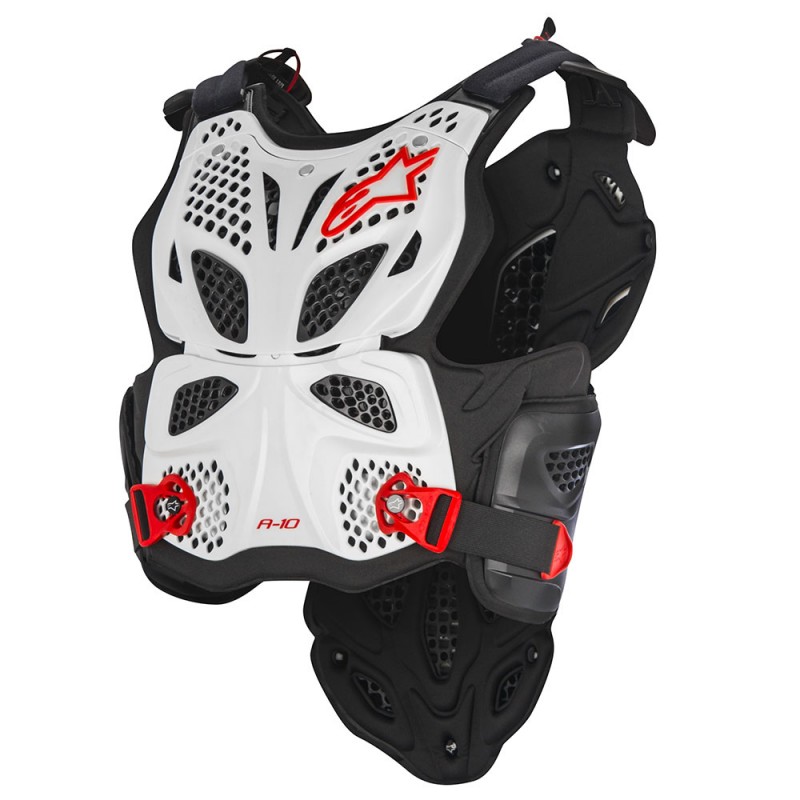 ---
When it comes to protecting my delicate body I am confident the A-10 will do its job in deflecting the heartiest of roost and take a hit should I find gravity overtaking my ability to keep it on two wheels.  Even though it is a matter of 'when' it comes to crashes, the A-10 can help turn down the worry factor when riding.
All the cool kids may just run a jersey when riding, but for those that race and ride for fun that have a job waiting for us on Monday mornings, I highly recommend the A-10. It is comfortable, has great coverage in front and back as well as the sides, and looks good too. If dressing for a crash is a black tie affair, the A-10 is Giorgio Armani.
Alpinestars A-10 Full Chest Protector
Retail: $229.95