There have been very few bright spots amongst a whole lotta gloom in 2020. One of those bright spots is the outlook for 2021 and the new motocross goodies that come with it. One of those goodies is new riding gear and Alpinestars filled up the 2021 goodie bag fuller than a rich kid's birthday party! I got the opportunity to Try Out the Racer Compass line and see if performs as good as it looks.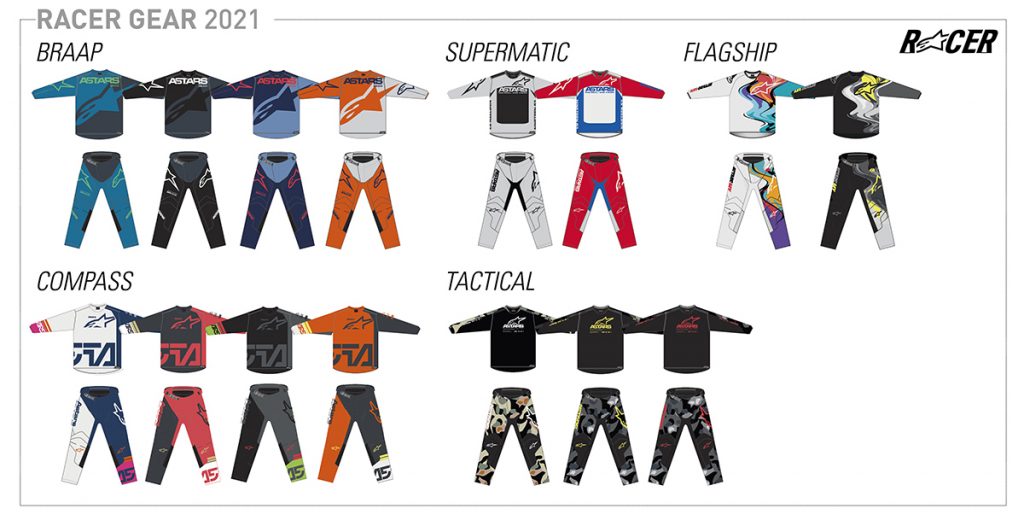 The Racer line is Alpinestars mid priced gear line, and the Compass is one of five classes under the Racer line.  The Compass class is "bold, colorful design with large type inspired by a combination of Anime, gaming and Japanese Kanji font", according to Alpinestars. All I know is that I liked the look. Bold, but subtle; colorful but not outlandish. The Tactical or the Flagship class is a bit more 'loud' for those outgoing personalities. Braap, Supermatic, and Compass have the look for some of us that are bit more conservative in our fashion, but still want to stand out.
Like a lot of you, the thought of trying to squeeze into an athletic fit kit sounds worse than going to your mother in laws house for meat loaf night. The Racer line is not that. It is for the serious rider and racer, but it can be for us casual riders that maybe skip leg day. And chest day. And arm day. And cardio day. But not necessarily donut day. What I am saying is, it will not show off the curves. So, lets break this down.
Racer Compass Jersey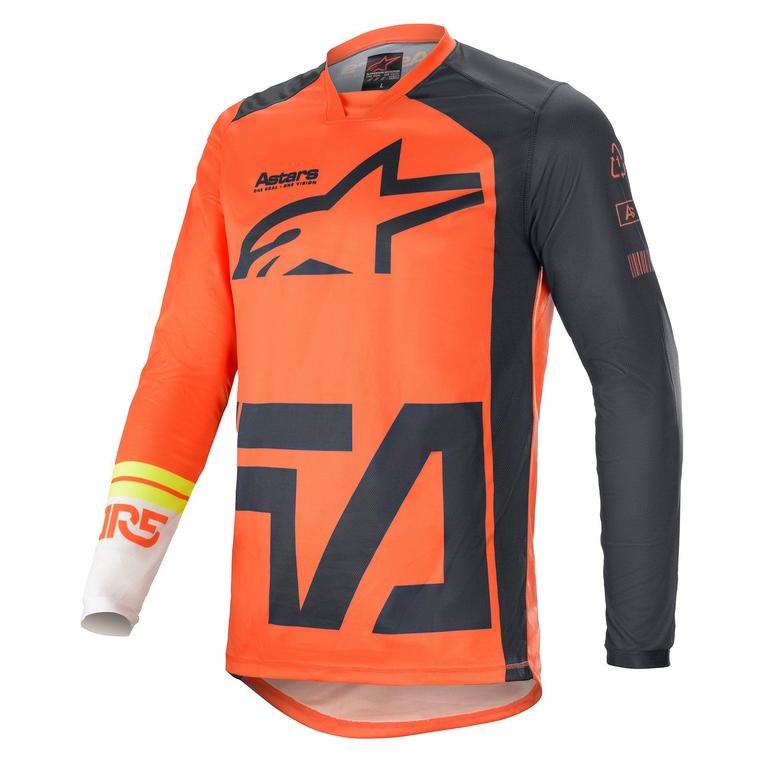 The Michelin Man or the Pillsbury Dough Boy may be cute, but no one wants to look like one when putting on a riding jersey. The trend has been the form fitting 'athletic' cut. That's great if you're a ripped 20-year-old weighing about 140lbs. But what about the rest of us that may have a few extra pounds of experience to carry around?
The Compass jersey is literally the right fit. There is plenty of room for us barreled chested riders and it doesn't feel like you are being constricted from all sides. At the same time, it is not the baggy flapping-in-the-breeze tops of yore and is extremely light weight. It is the right balance of fitment with room. The arms, particularly the forearms, are snug. Not tight or constricting, but….snug. I did not feel like it hindered my riding or contributed to any arm pump, but I wasn't able to push the sleeves up to my elbows either. This jersey is like the perfect blend of the athletic fit and a loose-fitting jersey. 
Racer Compass Pants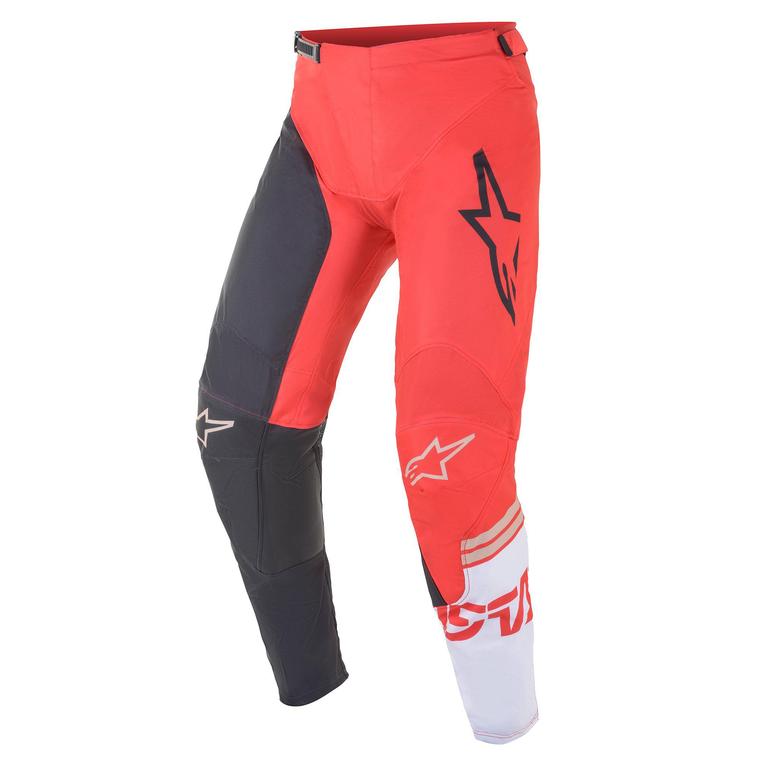 The adjustable Velcro straps can help snug up, or let out, the waist for a secure fit.  I have found that with the Racer line, it's best not to kid yourself and get the smaller size hoping to let out the adjustable straps. You may be able to get away with that in the Techstar line, but the Racer pant's stretch fabric panels on crotch, knees and rear waist hold true to the fit. You know what size you are so get the right sized pant.
One thing I did like was the offset of the ratchet system. It sits just right of center and the fit when zipped up was comfortable and then securing the waist for a secure fit was easy. The Compass pants are light too but have that rugged feel. I can tell I will be able to get many motos out of these things. However, the ruggedness did not sacrifice the comfort while riding. There is good ventilation and not a lot of excess material to get hung up on the bike or crumpled in the boot.
Racefend Glove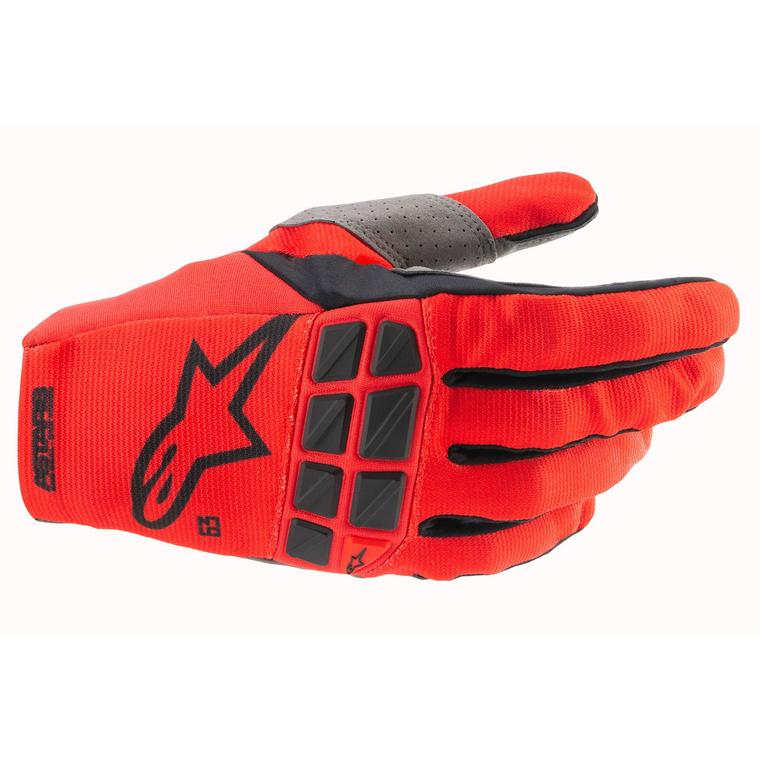 You may be able to get by with a jersey or pant that doesn't quite fit right and make it work, but if a glove is not right it goes straight to Goodwill. Gloves are a very personal preference, so it is not easy to make one that has the right feel but enough protection to get through long motos or trail rides without turning your hands to hamburger. I think Aplinestars found that fine line with the Racerfend glove. 
There is good protection on the topside with TPR knuckles while the padded palm isn't so padded that there is a disconnect from griping the bars. There is some strategic perforation to let the hands breath while riding.
There is one thing, and you might think it weird, but I really liked the Velcro closure. We all have had gloves that had the appearance of Velcro but nothing stuck. The Racefend sticks and it sticks well! My goggle strap would snag on it when I reach up to remove the goggles and I thought I lost a glove after washing it (it was stuck to my riding sock). It is a little thing, but very noticeable when coming off the track you notice the glove is secured exactly how you started the moto with. If you want a protective glove that provides good feel while staying secure, the Racefend glove is a great choice
There are a lot of choices out there when it comes to how you look and perform when riding, and the Alpinestars Compass line offers great looks that offers performance without spending an arm and a leg. We all wish we could get top of the line all the time, but the mid-price gear from the 2021 collection is worth a look.
Tested
Racer Compass Pants $119.95
Racer Compass Jersey $39.95
Racefend Glove $34.95