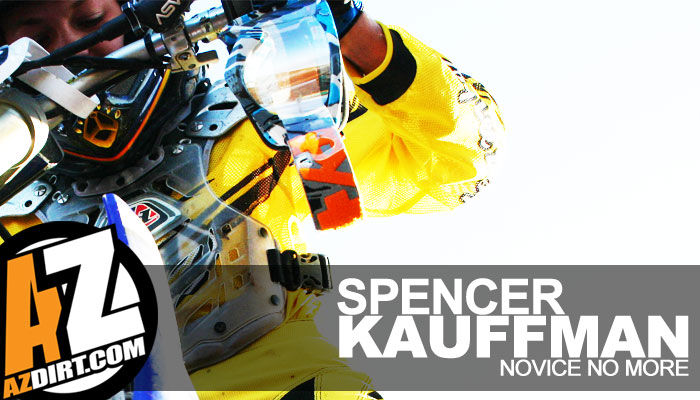 At the last couple of races AZDirt has been at, we have been watching the highly stacked Jr. Class and one of the kids who has been on fire is Spencer Kauffman. He has been taking home wins left and right.  I knew I had to find him and get the down low on him and his plans. I was able to catch up with Spencer and his Dad after the Payson race; this is was what I was able to get out of the both of them.
So give me a run down?
My name is Spencer Kauffman, I'm 15 years old and I'm from Fountain Hills, Arizona.  I ride the 125 Jr and School Boy class on the number 142 Yamaha.
You have been on fire in the Jr. Class lately, what is your racing past been like?
I have been on a big bike since the beginning of the last Summer.  Before that I was on an 85 and won some beginner races and was moved up to age after that.
Wait how long have you been riding?
I have only been riding for about 4 years now.
That's cool.  So do you train?  What is your schedule like for riding and training?
I do a lot of in-the-gym work and I have a track right at my house that I use a lot.
You did World Mini recently.  How did you do up there?
I crashed a lot, but I think I ended up 12th overall in Jr.
What are your plans for the rest of the year?
First, probably move up to 125 Int. after the last CMC Copperstate Classic.  Also, we have a house up in Colorado and I think we are going to be up there for a while training and riding.
Intermediate huh?
Yup!
So this is more than a weekend adventure for you?
Ya, I would really like to go pro some day and try to make something out of it.
Who helps you out with everything?
Well I do all my bike work and my Dad brings me to the races and helps me with my gate and everything.
Well, it sounds like you are on the right track here!  I would say Good Luck but I don't think you will need it.
Thanks!